The City of Yes
"The City of Yes is a Calvino-like intersection of art and reality … one of Canada's finest literary writers,"
Quill & Quire, May 1999.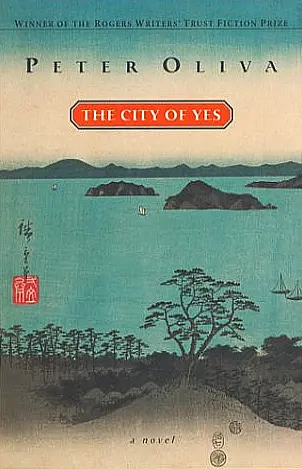 Alive with history, myth, and wonder, The City of Yes is a luminous novel of parallel journeys through old and present-day Japan. In Saitama to teach English, the narrator is confronted by unlikely visions of home as he gradually enters the world of contemporary Japan, with its floating stories, enigmas, and contradictions.
His own story is deftly interwoven with that of a real-life nineteenth-century Canadian adventurer, whose strange confinement in a Japanese prison, beginning in 1848, is so vividly imagined by the narrator. Full of delightful tales and eccentric characters, and written with the delicacy of a brushstroke artist, The City of Yes is suffused with warm humour, and with the intelligence and curiosity of a keen observer of life's riches and eccentricities.
---

"Deliciously crazy. The City of Yes gives a delicate, cunning and generous version of life itself through the sequence of characters and stories taken from this small village of Japan, touched by the Western culture and by the absurd."
-Le Monde, Paris

"The City of Yes is a Calvino-like intersection of art and reality, a portrait of life in which it is not the picture that is most important but the brush strokes... Oliva has proven himself to be one of Canada's finest literary authors."
-Quill & Quire

"What an exuberant, multi-skeined traveler's tale this is-as full of silent meaning as a haiku, as elegant as calligraphy, comic, compassionate and entirely magical...This one-of-a-kind literary invention captured the jury through the sheer joy experienced in its reading."
-Jury's Citation, Writer's Trust of Canada Award, 2000

"The City of Yes is a glorious literary feast." -Paul Quarrington

"Really a wonderful book. Wonderful layering and humour." -John Ralston Saul

"New novel puts author in big league" -Prince George Citizen

"File this one under excellent. [A] delightful, poignant, fully engaging story."
-Globe & Mail Editor's choice and Best of Year selection, 1999.

"A brilliant juggling act, a novel at once erudite and poetic, that explores a mythic place in our imaginations"
-Toronto Star

"A book of remarkable texture. the reader's mind runs over this book with all the sensuous pleasure of fingering a rare and precious material."
-London Free Press

"The sense of the surreal is created equally by Oliva's blending of myth and story and by his fine lyrical style."
-Hamilton Spectator

"Brushstroke by brushstroke, Oliva builds up his evocative, unsettling comic, ambiguously straightforward stories."
-Canadian Forum

"A larger than life character. An enchanting novel." -Ottawa Citizen

"Intellectual curiosity, vigorous ambition." -Edmonton Journal
Editor's Choice and Best of the Year, 1999

"A charming, deft and gently humorous novel. the great beauty of this novel is its writing. Every sentence possesses polished elegance."
-Literary Review of Canada

"A deftly written poetical narrative..The City of Yes is a polished and inventive novel." -AlbertaViews

"Oliva is such a good and persuasive writer - compassionate, funny, and gifted with an eye for arresting images - that The City of Yes more than lives up to the bold affirmative of its title."
-Bill Richardson, Georgia Straight

"An exquisite verbal labyrinth. Peter Oliva's sensibility, equal parts comic and lyric, provides a fitting testament to the baby-boom vision of Japan. a tenderly funny hymn to the romance between two cultures."
-The National Post

"Oliva novel is a trip well worth taking." -Star Phoenix

"If ever there was a forgotten Canadian deserving of a resurrection, a feature movie, or a t least a three-part mini series, it is Ranald MacDonald, thankfully re-introduced in an enchanting new novel, The City of Yes.
-Kingston Whig-Standard

"While Italo Calvino wrote of Invisible Cities, Oliva writes of a visible city that remains elusive." -Fast Forward magazine


---
Rights Sold

French (Editions Joëlle Losfeld, Galimard, 2002)